Vertical Rollerskating > Monsters of Roll 2004
---
Introduction : America : Woodward : Enterprise : Vert : Final
Travelling to America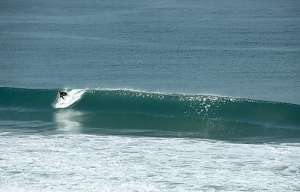 Surfer at Hermosa Beach
It was a last minute decision to attend the Woodward event. First of all, my vacation days for the year had been used up and second, the flight seemed way too expensive. But then I found a reasonably cheap direct flight with Air India and I went for this. Heck, who knows when such an event will take place again? To me, it was the first roller skate contest since more than 10 years and it was the opportunity to meet some of those roller skaters whom I got to know only via the WWW so far! A few days before the trip I caught a cold, but I had already booked ... The flight was OK, since I had a complete row of seats for myself, so I could stretch out my legs. The Indian food, however, is definitely not for me!
The rental car
Having arrived in Los Angeles International Air Port, I kept hoping that the officials wouldn't notice my cold. It seems that I had some presentiment that they wouldn't let in people with a cold starting the following week! It didn't go too smooth nevertheless. Fingerprinting and photographing was standard procedure at the US border. I let them have their way but they wouldn't let me in because I didn't give them an address where I would stay. How should I know? It was Sunday, October 10, and the Woodward event would start only on Thursday! They sent me to some guy who should help me and he explained to me patiently that they wouldn't let me in without filling in this stupid address field. Being from Yugoslavia, this guy actually spoke German and I explained to him that I really had no idea where I would stay till Thursday. So he wrote "Motel Woodword" in the address field of the immigration form and I was finally allowed to step out into Los Angeles. I had rented my car in advance from Holyday Autos and kept looking for a shuttle bus taking me to this car rental service. Lots of shuttles came and went, but none had Holyday Autos written on it. Some helpful person, looking on my car voucher, explained to me that I should be looking for Alamo car rental. Arriving there, the friendly sales person convinced me to rent a bigger car than I originally intended. I finally left the place with an Impala and drove to my first hotel. Since it wasn't very late I decided that I wanted to have a look at the Pacific Ocean and drove over to Marina del Rey. On my way back to the hotel, I got myself lost in Los Angeles and was happy to find the hotel again before falling asleep while driving the car. This has to be what they call a "jet lag"!
San Diego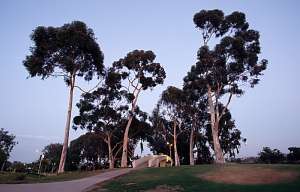 In the park of San Diego
Already on arrival in Los Angeles, I phoned a cousin of my mother. I planned on driving to San Diego after Breakfast and estimated that I would be there by noon. It woukdn't work out with driving along the Pacific coast. First thing was to get myself lost along the way, but not before watching some surfers on Hermosa Beach. It was already noon when I finally realized that I hadn't progressed past the harbour of Los Angeles. At least I knew were I was again and managed to steer my car to the Pacific Coast Highway. Huntington Beach was a sight strangely familiar from Hollywood movies. Finally arriving in San Diego, I immediatlgy realized that this wasn't the small city I somehow had imagined. I immediatley accepted the fact that I wouldn't be able to find my way to my mother's cousin on my own. Therefore I gladly drove to the Visitor's Information Center where a friendly woman gave my exact directions. Boy, would I have been lost in San Diego! With the directions I quickly found my mother's cousin and took the opportunity to celebrate my birthday with her (which happened to be on that date). I hope I will be as fit as her when I reach her age!
Palm Springs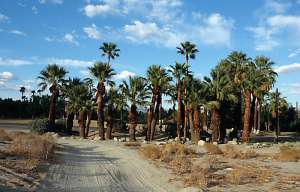 Palm Springs
After staying for the night in San Diego, I had an excellent breakfast at a Greek place in North Park. If you can't get a European style breakfast you may as well make do with something American style. Ham and eggs and hash-brown potatoes, very tasty! At noon I left with direction to Palm Springs which I have found to be the city nearest to Yoshua Tree National Park. I planned to reach the park on the same day. Palm Springs was quite easy to find and I drove straight ahead hoping to find the park. However, it was getting dark before I could find it and so I drove back to Indio where I found a place to stay for the night. It was called Royal Plaza Inn and cost $64.90. As an extra bonus I found directions to Yoshua Tree National Park in my room. Very handy!
Yoshua Tree National Park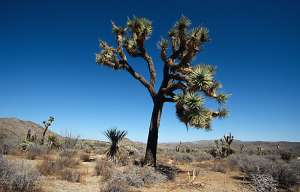 Yoshua Tree National Park
The next day I started driving in the opposite direction I tried yesterday, following the hints I have found at the Royal Plaza Inn. I got higher up in the mountains and I started to see Yoshua Trees. I was around noon when I found the north entrance to the park. There I payed $10 for the entrance and there I was. What a strange place! Everywhere stood solitaire Yoshua Trees. The silence was very deep, the sky was very blue. All over the park there were strange rock formations to be seen. I felt like I was visiting a completely different planet, I stayed for the rest of the day taking photos and enjoying the peacefulness. After leaving the park I drove back in the direction of Palm Springs and found a place to stay for the night at Palm Springs North near the Interstate 10. It was called Motel 6 and with $49.05 the cheapest so far.
Driving to Camp Woodward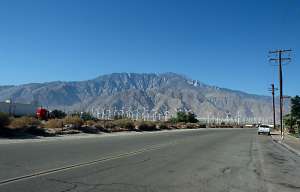 Wind power plants near Palm Springs
One thing I had learned in those few days I have been to California: You need directions when you want to find your way around! Therefore I carefully layed out my route to Tehachapi, which was the city next to Camp Woodward, West. Leaving Palm Springs, I saw a big field with uncountable wind power plants. At home in Freiburg people complain about 4 such plants saying they spoil the landscape! I drove the whole day long through the Mojave desert. One thing I noticed: Yoshua Trees don't grow only at the park. It was a good thing to start early on the morning because I just managed to arrive in time at Camp Woodward which is just in the middle of nowhere. The directions from the homepage of Camp Woodward proved to be very helpful to drive from Tehachapi to the camp. Was I relieved to finally arrive there! There were already some people standing around outside the camp who proved to be Brian Wainwright and his wife Martha, Fred Blood, Duke Rennie, Lee Ettinger and Irene Ching.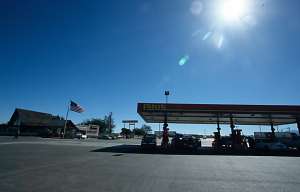 Gas station in the Mojave Desert